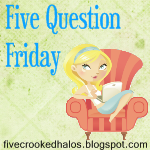 Happy Friday. I am so glad that it is Friday and it's a long weekend. It's suppose to be a beautiful fall weekend here and I am hoping to get in some fun fall festivites this weekend.
1. What do you listen to while driving?
The Hubs and I are usually in the car together. Very rarely are we not together. We both work downtown so to save money on parking we drive together. The Hubs likes Opie and Anthony so usually that is on. But not much longer. I would like to not have it on while Belle is in the car. If were not listening to them then usually the hits channel is on, which is from 2000 to present. I love my XM.
2. What is your least favorite thing about Fall?
I wrote a whole
post
about this a couple weeks ago. I LOVE fall. It's my favorite season. I love the cool crisp air, the smells of pumpkins and apples. The changing leaves. Pumpkin farms and hayrides. Apple cider, Halloween and Thanksgiving. I could go on forever. So there isn't really anything I don't like about it. I am a little sad that summer is over, and sad that we have a long winter ahead of us, but I always forget about the long winter part until mid-Janurary/February. I enjoy the first month or 2 of winter...maybe that's because of the Holiday's. But when winter doesn't end till April around here it stinks. So yeah, winter being right around the corner is my least favorite part of Fall....and sorry for rambling....
3. What does your dream house look like, inside and out?
I wrote a
post
about this a while back too. Well I listed my top 13 items my dream house would have to have. I would love to have a house with a beautiful up to date kitchen. At least 2 bath rooms. A play room for Belle. A large backyard but with trees inbetween our neighbors so we have some privacy. A 1st or 2nd floor laundry. And a mudroom.
4. Would you ever own a minivan?
No. No way, no how not happening. I love my Equinox and I will stick with the SUV over a minivan. Nothing against minivans, but they aren't my style and are not me at all.
5. Do you wash new clothes before wearing them?
For myself and The Hubs no. But for Belle always. I was everything, clothes, blankets, sheets. I'm very anal over it for her. The day after her birthday party I spent washing, folding, and putting away all her new clothes.
Wanna play along? Link up with
Mama M
.