Now that I officially have a toddler I thought I would try participating in Toddler Talk Thursdays. Toddler Talk Thursdays is a weekley meme hosted by my friend
Sippy Cup Mom
. We talk about a our toddlers and what ever the topic is of the week.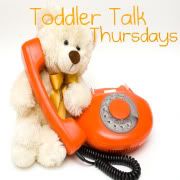 This weeks topic is What is in your Diaper Bag?
This is actually a fun one and made me clean out my diaper bag. It's been a year and I have never actually cleaned it out. Don't worry there wasn't much to clean out besides stuff we don't really use anymore.
This is my diaper bag. Just a basic pink and brown diaper bag by Carters.
The insides....
Ok, I know that looks like a lot. But its really not. Everything fits nicely inside and in the pockets. And in all honesty I can fit another set of clothes, PJ's and a bunch of toys with room to spare. We usually have Belles stuffed baby and her bunny in here as well, but Belle is sleeping with them so no pictures.
See, told you everything fits nicely inside. Here is a picture with what everything is. I can say I have used everything that is pictured. And yes I have a couple of things in the bag for me. There are times where I don't grab my purse and will just use the diaper bag. So sometimes my wallet, keys and cell phone are added. I made sure to have chapstick in the bag at all times, because I am a chapstick fiend. I have them every where. And when you wear contacts, you always have eye drops with you. I also usually carry a bottle of Tylenol. I can't tell you how many times we would be at my parents and would need it. Teething and once for a fever.
I am looking for a bigger purse that I can throw some diapers and wipes a sippy, snacks, and maybe a change of clothes in. The purse I have now I can barely fit my wallet and cell phone. I don't want anything large but something bigger then what I have now. Want to show off your diaper bag? Link up with
Sippy Cup Mom
.
And this is completely shameless. Picket Fence Blogs reset. So I am pretty low again. Can I get some votes to get back up onto page one? Please? I know we can do it. Just click
here
. Thats it. Or you can click the button on the right that says were on the fence. Thank you!