It is finally Friday. This week felt like it took forever. And this weekend is going to be great. The Hubs is off all weekend so he will be home all weekend with Belle and I. And it's Birthday weekend. Yup, Sunday is my birthday. How are we spending my birthday? Well Saturday I am making my home made pizzas (Yum!) and were getting comfy on the couch to watch Toy Story 3!
We added it to our Netflix queue last week when it came out. Then The Hubs revealed to me that he has never seen Toy Story 2. So that was moved to the top and we sat down and watched it Tuesday night. He loved it like I knew he would. I can not wait to watch Toy Story 3. I am so excited.
So then Sunday my actual birthday we have no plans. The bank that we work at is offering free admission into our local zoo...but it's going to be really cold this weekend so I think were going to skip it. Even though I would love to go.
Monday The Hubs arranged to have our babysitter come over and he and I are going to out to dinner. Just the two of us. I can't wait. I get to eat a hot dinner with no screaming child in my ear. And the best part, no food being thrown on the floor. I can not wait!
But anyways, it's Friday which means 5 Question Friday!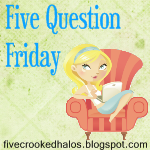 1. If you could have any talent and turn it into an occupation, what would it be?
I would love love love to be a professional dancer, but one I am not tall enough and two I not that good. But that is my dream.
2. Would you rather have a house at the beach or a cabin in the woods?
A house at the beach. No question about it. But it would have to be a beach in the south. Not up here cause that would be lame and not worth it in the winters. Wake up every morning and see the water and to sit on my deck every night and watch the sun set over the water. I could do that every night.
3. Is there any meaning or reasoning for the names you chose for your child/children?
I just really like the name Isabelle. We do call her Belle for short. Or in reality we told everyone it would be Belle for short because everyones first response to the name Isabelle was Izzy. And we hate that. It even looks ugly. So we told everyone Belle. But when talking to her we call her Isabelle. When writing her name we write Belle. So werid. But I just fell in love with the classic name. And as everyone knows Belle means beauty in french. And as much as my family thinks we named her Isabelle because my favorite Disney princess is Belle, is really not true.
4. What is your guilty pleasure? (I know we've done this one before, but I'm guessing people's "guilty pleasures" change frequently. At least, mine do!)
Right now, Vampire Diaries. I know I am lame but I am so hooked right now. I can't wait for Thursday nights. I love it. And Stefan makes me think Edward Cullen who????
5. Do you live in a house that is deep cleaned or straightened?
Hahaha, I wish my house was deep cleaned. I am a full time working mommy. Do you think I have time for deep cleaning?? I love spending time with my family if that means my house work suffers, then so be it. My house is by no means dirty and I do "straighten up" and clean as much as I can and have time and energy for.
Happy Friday everyone. Have a great weekend, I know I will. Wanna play along with 5 question Friday? Link up with
Mama M
.