Happy Friday!!! I am so happy that it is Friday. I have been working every evening on a side project which I will reveal on Monday. I am so excited for it. This little side project has also helped me learn some new things to do around here. I've had photoshop for near a year now but I am learning as I go and am happy to say I learned a lot over this past week.
We have a busy weekend. We have a wedding tomorrow for a friend of mine. We grew up together. Actually, her father and my father have been best friends since kindergarten. Were looking forward to a night out with family and friends, and good food.
I am going to miss the peanut like crazy, but I can not remember the last time the Hubs and I had a night out.
Then on Sunday we are going over to my parents house for my dad's birthday which was this past Monday. Then next week starts all the fun Halloween activities. Can't wait.
And since it's Friday, that means 5 Question Friday!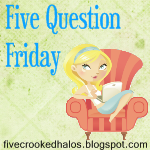 1. Who is the better cook, you or your spouse?
Depends on whats being cooked. The Hubs is much better at grilling and breakfast foods then I am. But the baking that's all me.
2. How often do you talk to your mom?
My mom is my best friend. I talk to you a few times a week sometimes every day. Depends on whats going on. Lately there isn't much new to tell her so I don't call as often.
3. Are you adventurous in the kitchen or stick to the recipe?
If there are ingredients that The Hubs or I don't like I will either not put it in or swap it out for something else. As long as the ingredient isn't a key ingredient to the dish.
4. Is your second toe longer than your big toe?
Hahaha no but The Hubs is and I make fun of him for it all the time. When Belle was first born her second toe was longer then her big toe. I haven't looked to see if it still is in a while.
5. Do you dress up for Halloween? (Bonus question: What will you be this year?)
If were going some where then yes. But since this year we are just taking Belle to a couple neighbors and then probably to the grandparents we are not. Next year we are planning on going to Disney and attending the Mickey's Not So Scary Halloween Party. For that we will dress up and we already have costumes in mind for the whole family.
Wanna play along? Link up with
Mama M
!
And as promised a picture of our finished door. We just have to touch up the paint around it.
Also if you could vote for me? I haven't asked much for votes lately and I am really starting to fall. I would like to stay on the first page. Thanks. You can click
here
or on the button to the right that says Were on the fence. Thanks!!