It's finally Friday. You know for this being a short week having Monday off and all, it feels like this week has been extra long. Maybe it was the fact that Monday night we were woken up by our neighbors at 2:30 in the morning. Maybe it was because it's been a slow week at work. Or maybe it's because I have been waiting for the weekend and today is pay day. Woohoo!
But it's Friday, we got a dress down day at work today and they are providing lunch. It's a beautiful fall day...have I said how much I love fall yet? I haven't hmm...I see a new post in that. And yup, you guessed it. It's 5 Questing Friday time.
Have a wonderful weekend everyone!!!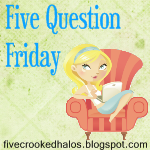 1. Do you feel guilty spending money on yourself?
All the time. I never buy myself anything and feel horrible when I do. Like I should be spending it on Belle or we could use that money for something else.
It's honestly gotten to the point that I am questioning every time I spend money. Should I buy this? do we need this? We agree on buying something but when it gets to the point to actually buy it, I start second guessing myself and feeling guilty.
The Hubs knows this too and totally plays off of it. With comments like "you know how much money we have, it's your decision". Which makes me feel even more guilty. Thank you Hubs. (please pick up on the sarcasm!)
2. How well do you know your neighbors?
Well, we talk to both sides of our neighbors pretty often in the summer. But know them know them not all that much. We did become pretty good friends with the neighbors across the street from us over this past year. I think the fact the we have daughters who are less then a day apart in age helped too.
3. What age are you looking forward to being?
Pfft. Those ages are long gone. I remember I couldn't wait to be 16, then 19 (you drink legally in Canada at the age of 19, we live 20 minutes from the border. Best.Birthday.Ever), then 21 (Worse.Birthday.Ever), then kinda 25 until I had a mental breakdown the summer before realizing that I was going to be 25 I was married, and pregnant. Now it's just hoping the next few years don't fly by. I like my twenties.
4. Do you get excited when the mail comes? Why?
Depends on the mail. When we were getting married and waiting for our response cards to come in we would fight who would get the mail first. I love getting Christmas cards. If were waiting for something to come yes. If not, then no...it's all bills any ways.
5. What is your earliest childhood memory?
It's fuzzy and I don't remember all of it, but I remember going to Cedar Point at age 4 and riding the train. I remember the skeleton characters that you pass while on the train. And going to car shows all summer every summer growing up.