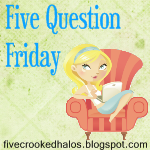 1. Do you have any nicknames and if so how did it come about?
My dad use to call me AM (first initial and middle initial) and when I was a kid called my Boze, short for bozzo. Yeah thanks dad. And to top it off when my nepher started talking he taught him Aunt Boze, so to my nepher I am aunt Boze. He's lucky hes cute and I love him!
2. What is your birth order amongst your siblings?
I have one older brother which makes me the baby.
3. In a movie of your life, who would play your significant other?
Hmm...good question. If I was playing me, I would choose John Cena cause uh, hello have you seen him??? Swoon!! But if were trying to be realisitc, hmm...maybe Neil Patrick Harris or Ryan Reynolds??? Maybe I am totally not even close here.
4. What is currently your favorite song?
I am liking Vampire Weekend right now. But I don't think I have a favorite song right now. It honestly changes daily with my mood.
5. Are you saving your money for anything right now? Big or small purchase?
Ha, lots of things. A house, a vacation, a new wardrobe would be nice for all 3 of us. And a much much better camera is on the top of my list as well.