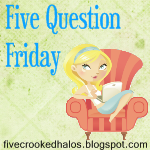 1. Do you collect anything?
I kinda collect Precious Moments. I have a grand total of....6. The hubs use to buy them for me and in the last year I have gotten none. Eh, we really don't have the room for collections any ways.
2. Name 3 celebrities that you find good looking.
OK the first one is going to sound lame. But the Hubs watches wrestling which means I have seen and followed along a fair share. So my number one is John Cena. Two would be Vin Diesal even though he isn't around as much, he's still very nice to look at. And sadly I can not think of a third...
3. Do you have any scars? If so, what's the story behind it (them?)?
I have a scar on my upper thigh. Actually it has lightened so much over the years you can barely see it now. It was from my childhood cat.
4. What is a food that you like to eat, but others might think it's gross or weird?
I eat my mac and cheese with ketchup still.
5. Have you ever seen a tornado in real life?
I have not seen one in real life we surprisingly we have had our far share here for not being a Tornado area. We actually just had an earthquake here too.
Wanna play along? Link up with
Mama M.