This weeks theme for Toddler Talk Thursday is your 4 favorite pictures. I thought this was going to be tough this week because I really have only had a toddler for just over a month now. So I didn't think I would have many to choose from. I still don't have to many to choose from, but I just couldn't decide. Then it was tough because I had a ton of fall/pumpkin ones. And of course in that small amount are the ones that have been posted this week. So I know that most of these have already been posted on the blog. Although I don't believe the first one has.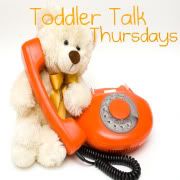 Belle in her puppy ears from The Bugs "Barnyard Banter Parade"
Belle cuddling baby. This is a rare occasion. Usually she is grabbing baby by her hair and throwing her.
Belle with her pumpkin just before we carved it.
Belle posing on Halloween
Today The Hubs and I have off from work for Veteren's Day. I am so happy to have a day off. The past couple of weeks have been hell. Busy and I just can't catch a break on my desk. And not to mention that we had brand new printers installed on Monday and for three days our new one wasn't working. We had very little help from any one to get it working. Not only was the one my group prints on not working at all but a second brand new one wasn't properly installed and the toner exploded. It's been fun.
Since The Hubs was off yesterday with Belle for her second dose of the flu shot we decided to take Belle to The Bug for a few hours so as to not kill her routine this week. While she is at The Bug we are going to head up to the mall and do some shopping. And then hopefully a whole bunch of nothing!
New Post at Raising a Disney Princess:
Duffy The Bear
!