Happy Friday! I am so happy it is Friday. The week went quickly, but we had some rough nights. Belle woke up both Monday and Tuesday night right before The Hubs and I went to bed. Then Wednesday night the cat decided to keep us up be meowing all through the house and randomly scratching at Belle's door. I am exhausted.
We don't have much going on this weekend. The Hubs is working all weekend so it's just Belle and I. It's suppose to be pretty cool and cold here. I don't think they are calling for rain. Not sure what were going to do. I can tell you at least one of those days we will be out of the house. Two straight days couped up in the house just the two of us....yeah we will both go nuts.
Anyways, it is Friday which means 5 Question Friday! My answers probably aren't that great this week, as I said I am tired.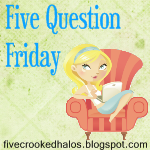 1. What is your favorite Halloween candy?
Recee's Cups. I can not resists them...and butterfingers.
2. Do you fold your socks?
I match mine, put Belle's together, and fold Patrick's.
3. What is something that you wish you had been warned about?
Being an adult is hard. I mean obviously but when your a teen you just can't wait to grow up. I should have done more as a teen/young adult.
4. What is the most significant difference between you and your significant other?
The Hubs would be happy staying home and doing nothing. I like to be out taking everything in doing stuff. I think I ware him out.
5. What are three words you would use to describe yourself? (And, just for fun...if your significant other is around, ask him/her what 3 words they would use to describe you!!)
I think I am talkative, loud, and loving.
Wanna play along? Link up with
Mama M
. Also link up with
Sippy Cup Mom
for Follow Me Chickadee.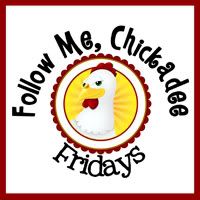 Also if you would be so kind to vote for me? Just click
here
or click on the button on the right that say "Were on the Fence". Thank you!!