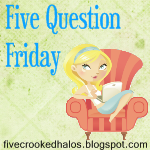 It's that time of the week again!!!! Friday!!!! Which means it's 5 Question Friday!!!!
1. Have you ever visited another country?
Does Canada count? We live about a half hour from the border. So going to Canada is no big deal. Well, now it is. They changed it so you have to have a passport to get back into the country. I do not have one yet so it's been a few years since I have been there. But had an awesome 19th birthday party there! Legal drinking age in Canada is 19.
My dream vacation is to go to Italy and Greece. Some day...
2. Where is the strangest place you have ever been?
Hmm...good question. Not really sure. I have been to some Caverans...got sick in them.
3. What is your favorite season?
Summer and Autumn are very close, but I can't deny it. I LOVE autumn. I love the smells, and the pumpkins, and the leaves changing. The weather, the food, the holidays. It doesn't hurt that autumn here is beautiful!
4. What one song will always cheer you up?
Making Memories of Us...our wedding song. Puts a smile on my face every single time I hear it.

5. What Disney character do you resemble most?
I always use to think Belle. She is the only princess with brown hair and she's a book worm. I like to think that she is the smartest out of all of the princesses too. She didn't wait around for her Prince Charming to come.
Wanna play along? Link up with
Mama M
.