I finally finished Firefly Lane. It only took me about 7 months to read. I think I started it some time in January. After months of it sitting on my coffee table I picked it up Sunday afternoon. I finished it last night. I was probably only a quarter way through when I had stopped reading.
It is a really good book and I suggest it for anyone who is looking for a new book. It's happy and I'm not going to lie it gets sad and a little depressing. It's about 2 women and the story of their 30 year friendship. It starts in the 70's and ends in the early 2000's. Definitely worth a read.
So now I am looking for a new book. I have a Sarah Dessen book I am going to start today but it's short and won't take me long at all the finish. I am looking for a long book. Any suggestions would be great!
And now on to 5 Question Friday...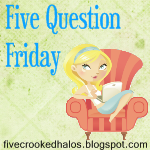 1. Are you a neat sleeper or a messy sleeper?
I am going to say neat sleeper. I generally stay on my side of the bed. Unless I am alone. But even then it takes a couple of nights alone for me to really start to travel on to the Hubs side.
2. Fill in the blank. I wish I was more _______________________.
I wish I was more motivated to clean my house. By the time Belle is finally in her crib sleeping or is falling asleep quietly, it's 9:30 or later. And by then I don't want to scrub the kitchen floor or the bathroom or dust. So my house is a mess. Maybe I just need more time in the day. Or maybe more time at night so I am not exhausted.
3.What is something that you wish you had been warned about?
Ha, I wish that my future self came to me before I was pregnant and told me that I was going to have a miserable pregnancy. I would be stuck in bed for pretty much all of it and not be working. So money would be tight and it would be really hard financially the next year to get back on our feet. I probably would have saved a lot more then.
4. What is the best thing you ever found at a garage sale/flea market?
Nothing. We don't do garage sales or flea markets. Before Belle we slept in on the weekends. Now that Belle is here, I want to relax on my Saturday and Sunday mornings.
5.If you could have any meal brought to you right now, what would it be?
Well hmm...I would either want something from Swensons (a drive in restaurant in Ohio, so good!) or maybe something from the Italian restaurant in Disney, or the cheddar cheese beer soup from Disney...
Wanna play along? Link up with
Mama M
.