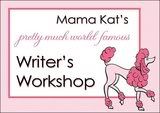 This week for Writer's Workshop I choose to do prompt 5: Describe a memorable camping trip.
When I was a kid we use to go camping 3 weekend in the summer. Memorial Day weekend, 4th of July weekend, and Labor day weekend. There was a group that went and we had a blast. Even though it was about 15 years ago we still tell the stories.
I am not sure if all of these memories are from one weekend or a bunch that are all one now. The kids that were there all the time were of course my brother and I, my cousins and my dad's best friends 2 daughters who are my age. One year we decided to send my little cousins underpants up the flag pole. It was hilarious! Of course he still laughs about it.
My father made up a ghost story one year about a dead fisherman. According to the story he lived in the cabin behind our camper (we had a permanent spot). The cabin that had the flower bed cover was the one he lived in. So every time we would get there we would have to look to see which cabin he was staying in. Once we got older and came to realize it wasn't true we had some fun with it. One of my friends took a yellow rain coat one night. We dressed her in it and she walked to perimeter of the field we had our camp fires in. My little cousin (not so little anymore) was curious and ran up to her. She couldn't get him to go away. She stumbled upon a boomerang sitting on the ground. So she picked it up and handed it to him. He ran off after that. The next day the adults saw him playing with it and asked him where he got it, his response, the dead fisherman.
There are so many more stories that I could go on and on about. Camping is now down to one weekend a summer, and isn't nearly the same as it was. But I really hope that Belle can make some great camping memories there like I have.