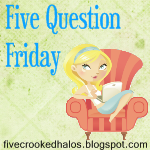 1. Did you have a favorite blanket or toy as a kid? If so, do you still have it?
Nothing really jumps to mind. But I had a ton of barbies and barbie accessories. I was always playing barbies. And I still have all of it. When I was to old to be playing with barbies I packed them up and they are in my parents attic. Just waiting for when Belle is old enough for them.

2. Do you dream in color?
I like to think I do, but I have no idea...
3. How tall are you? Do you wish you were shorter or taller?
5'2". I do wish I was taller. For starters I would be super skinny if I was taller and at the weight I am at now. And I would have been able to at least think about trying out to be a Rockette. But you have to be between 5'6 and 5'11. I think it's height discrimination.
4. If you could have anyone's (celeb or other) voice as the guide on your GPS, who would it be?
This is a tough one. Not really sure.
5. Do you return your shopping cart to the corral or leave it wherever in the parking lot?
I always return it to the corral. It's annoying when carts are left all over, especially on windy days. Take the extra steps and put the cart where it belongs!
Wanna play along? Link up with
Mama M
.