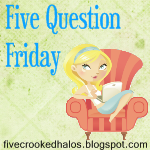 1. What were your school colors?
Good old Maroon and White. We were one of the schools with the ugliest colors.
2. What's the best compliment you ever received?
Hmmm...honestly lately it would have to be how good Belle is. When we are out she is very rarely fussy and all around a good baby. I love the compliments that we get on her. Makes me so proud!
3. Do you buy cheap or expensive toilet paper?
We buy Angel Soft, which is on the cheaper side but by no means cheap. It's soft and durable but not paper thin.
4. Have you ever had a surprise party thrown for you? Or have you had one for someone else?
Yes and yes. An ex boyfriend and my mom threw me a surprise birthday party one year. I want to say it was my 18th.
Then I have thrown so many surprise birthday parties and even a surprise graduation party for the Hubs last year. He had no clue until the day of when my dad and I were on the phone discussing stuff. He started to get suspicious then. Go figure. But he still had a great time.
5. What is one material possession that you "can't live without"?
This was a tough one. I want to say my cell phone cause I rarely leave with out it. But I rarely actually use it. Maybe my camera. I always have that with me.
Wanna play along? Link up with
Mama M
.