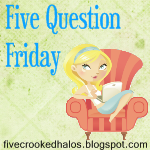 1. What do you think makes a good friend, or friendship?
Being friends with some one that you can completely be yourself. You don't have to think about what you say or do. You can just be you.
2. What is the last thing you bought & later regretted?
I always feel guilty buying stuff for my self. I immediately think about what I could have bought for Belle with that money instead.
3. Have you ever had a prank played on you?
I have a brother who is 5 years older then I am. Of course I have had pranks played on me. When I was in high school my brother had a job working nights. So basically we really never saw each other. One night I was going to be bed. Put my head on my soft squishy pillow. Only it wasn't soft and squishy. Instead it was hard and crunchy. My brother took the packaging tape and wrapped it around my pillow about a bazillion times. Not cool man, not cool. Or the first time we went to Disney I was in the I hate rides that do anything remotely scary phase. So my brother and my father decided to would be hilarious to tell me that every.single.ride went "upside down, backwards, under water, and in the dark." I think that was more teasing then a prank. Jerks!
4. What is your favorite theme park?
Disney. Hands down Disney. First, umm hello, it's the most magical place on Earth. Second you can go 100 times and still see something new every time. There is so much to do you aren't going to do it in one trip. Third, you are absolutely spoiled there. Staying on their property and purchasing their dining plan...you have it made. And of course we have a blast every time we go.
5. Have you ever seen someone else give birth?
No. I didn't even watch when I gave birth. But, when I was in my bed rest pregnant state, I think I watched every baby show that was on during the day. Ok not every day. It lasted maybe a month and then got old, real fast. But do those shows even count?
Wanna play along? Link up with
Mama M.